Artist Features
The Sugar Plum Art Gallery curates a worldly collection of Art and rotates artists frequently. The gallery hosts a variety of special cultural events, artist exhibitions and is the venue for private events.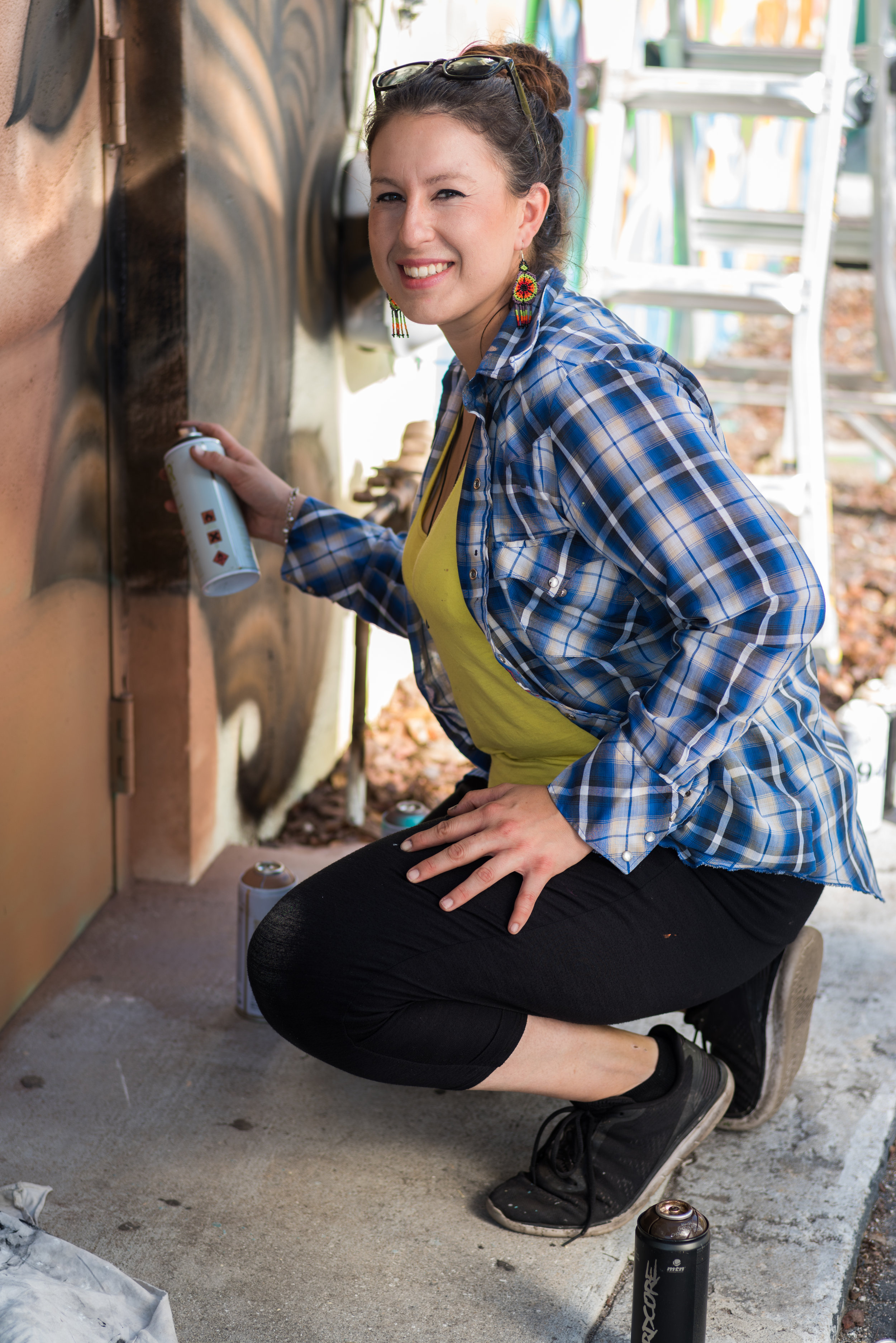 Self taught painter and Muralist Deity was born in Hollywood, Ca. She is best known for her soft and ethereal female characters. Deity is inspired by nature, folklore and traditional culture. She uses a combination of paintbrush and aerosol as her mediums. She started painting the streets in 2008 and has taken her creations across the globe. Deity's work can be seen in the U.S., Mexico, Canada, Italy, France and Spain. In 2013, Deity became an active member of an international all female painting collective known as Few and Far. Deity travels with the collective painting large scale murals and helping organize community projects for the youth. Currently living in Ontario, Ca, Deity plans to keep collaborating with other international artists to help inspire the next generation of female street artists.
Learn more about Deity @deityart on Instagram
Ms.Yellow (real name Nuria Ortiz) is an international muralist, artist, craftswoman and jewelry maker. Born in Long Beach, Ca of Mexican descent, she has dedicated her life to the creative development and empowerment of community and youth through direct engagement. Her goal has been to utilize her knowledge and help bring people together in using art as a therapeutic release. She has worked closely with schools, community centers, boys and girls clubs etc to develop workshops and mentorship to the youth. As a muralist Ms.Yellow has worked with communities to bring colorful murals with dreamy color schemes and endless detail to the masses. Her works center on themes such as culture, sisterhood, education, unity, love and social justice. Her artwork and murals have been on display in museums, galleries, and streets around the world such as Spain, France, Mexico and Egypt.
Jill Karlin
Artist/Yogini/Environmentalist/Renaissance Woman Jill Karlin was born in Boston and graduated from Rhode Island School of Design. She received a Masters degree from Boston University in Fine Arts. She lived and worked in Paris and Rome. Her career has spanned her entire life. Her first exhibition was in Boston and she has exhibited her paintings globally since then. Her devotion to creating environmentally sustainable housing, as co-founder of EKOTECTUR, is reflected in much of her art work. Large floral water colors have been purchased for Presidential Hotel suites. Her dolphin paintings grace museum walls, her monumental tile art projects give communities a focal point for education about environmental issues. She has been commissioned to paint house portraits of houses, businesses, hotels and museums. These paintings are classic Americana, with a central painting of the building and flanked by a series of descriptive patchwork quilt paintings about the subject. Most recently Jill has published, "An Artist's Inspired Journeys in India and Nepal Paintings and Tales by Jill Karlin.
ART NOW AVAILABLE FOR PURCHASE AT SUGAR PLUM ART GALLERY
(We will ship in North America)
Ladies Washing Lake Pichiola Udaipur

Amy Reshefsky
It's All About the Art: The Story of Amy Reshefsky
Art studio, fine art, glass, canvas, abstract.
As if drawn by a force, she went out and found a canvas, acrylic paint, and some paintbrushes. Images in her mind were calling her. She closed her eyes and listened and what came out was art. From her mind to the canvas ? like magic ? lines started to appear. Then color. At home in that tiny room surrounded by silence and unpacked boxes she found the calling that would forever lead her. She knew then the single truth she carries in her heart today: It's all about the art.
"I just started painting and I haven't stopped," she says. It's been a decade since the day she created her first painting. "Some artists stick to a certain style because that's what they're comfortable with but I'm more comfortable being creative in all directions," she says. "I love to try different things and different techniques. I can attack anything and enjoy the challenge." Her work is highly sought after by collectors and can be found in the homes and private collections of connoisseurs throughout America and Canada. One of her pieces, commissioned for a Delray Beach temple, tells the story of Passover. The colors come to life on the large piece of glass in a whimsical, even playful manner.
Her work is eclectic, her style is untouchable. To put a finger on it and try to pin it down is to take something away from the energy of her art. Her use of glass and wood add exciting elements of texture and transparency. Her color economy is dazzling, nothing is wasted, no lines are spared; often telling a story, each element serves a purpose.
Amy is a proud mother of 3 and grandmother of 7. She resides in Mont Tremblant, QC, and seasonally in Delray Beach, Florida. Her art can currently be seen on exhibit in The Heart of Delray Gallery in Delray Beach, Florida.